Entertainment
Changing space, changing consciousness and commemorating history"
MESSAGES | FEATURES | PREVIEW | EVENTS
originally published: 08/29/2022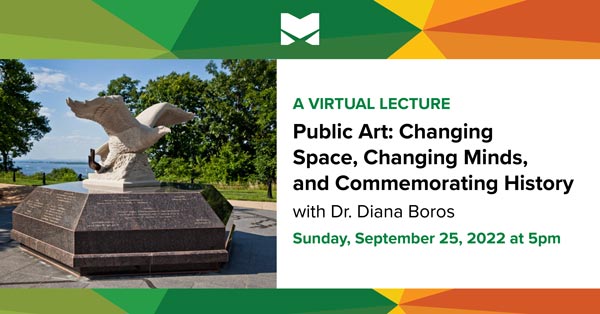 (MIDDLESEX COUNTY, NJ) — The Middlesex County Art Institute presents a virtual lecture entitled "Public Art: Changing Space, Changing Minds, and Commemorating History" on Sunday, September 25, 2022 at 5:00 p.m. The event is part of the series "History Detectives" and takes place on ZOOM. dr Diana Boros will share stories about public art projects—both new and historic, in locations near and far, in New Jersey and beyond—that engage communities and create outdoor galleries.
Public art is a unique phenomenon in that it is inherently inclusive and democratic – it is free and in open space – anyone can see and participate, each in their own way. It is perhaps the most important method of bringing art to the people. Nonetheless, urban centers have historically and currently most often benefited from public art installations. Rural and suburban areas and communities are too often left out. Artists – and their benefactors – need to engage and support a variety of communities so that the benefits of the art experience can reach more and more people.
Join the talk to hear her talk about how art in our public spaces can tell stories, share experiences, spread awareness, revitalize neighborhoods, and commemorate historical moments and events. click here to register.
About the speaker: Diana Boros is Chair and Associate Professor of Political Theory in the Department of Political Science at St. Mary's College of Maryland. Her research interests include the intersections of art and politics, such as public art as a tool for political intervention, as well as critical theory and the Frankfurt School, 20th-century French philosophy, feminist political theory, and American political thought. She is particularly interested in how public artistic experiences and inspiring, inclusive public spaces can enliven everyday life and strengthen democracy. Boros has published two books: Creative Rebellion for the Twenty-First Century: The Importance of Public and Interactive Art to American Political Life (March 2012) and Rethinking Public Space: The Frankfurt School in the 21st Century (December 2014). During her time at SMCM, she received two prestigious awards: the Norton T. Dodge Award for Scholarly and Creative Achievement by Junior Faculty and the Faculty Student Life Award. She previously worked for the United States Senate, as well as for several state-level political campaigns, and was also an associate professor of political science at Rutgers University in New Brunswick, where she taught courses in American political thought, the political theory of gender, and jurisprudence.
Funded by the Middlesex County Board of County Commissioners and the New Jersey Historical Commission, a division of the State Department.
Advertise with New Jersey Stage for $50-$100 per month. Click here to get more information
---
Advertise with New Jersey Stage for $50-$100 per month. Click here to get more information
---
#Changing #space #changing #consciousness #commemorating #history Source