World
China locks down world's largest electronics market as part of 'zero-COVID' policy
China's ruling Communist Party (CCP) has locked down the world's largest electronics market and urban districts in its megacity Shenzhen, China's economic heart. Meanwhile, a Chinese think tank warned of major risks to China's economy and urged authorities to change "zero-COVID" policies to help the economy.
After 11 local Omicron variant COVID-19 cases were officially reported by authorities in Shenzhen on August 29, three of the city's ten counties; Futian, Longgang and Luohu were detained.
Futian was ranked second in terms of its contribution to Shenzhen's GDP in 2021, with Longgang third and Luohu sixth. Together, the three districts account for more than 40 percent of Shenzhen's gross domestic product.
According to the 2020 China Census, the population of Futian is 1.55 million, Longgang District is 4 million, and Luohuo District is 1.14 million.
None of the 11 infected patients live in or have visited Longgang District. However, the district will continue to be closed.
Production and business operations have been suspended, and all residents in the districts have been asked to undergo PCR tests every day for the next four days. In addition, six subway lines and 24 subway stations were shut down in the city of 18 million.
Closure of the world's largest electronics market
The world's largest electronics market — the Huaqiangbei business district in Futian District — was also shut down, disrupting trade in electronic parts.
Local authorities announced that the market will be closed until September 2nd. There are thousands of stalls in the market selling microchips, phone parts and other components to manufacturers.
The CCP's extreme COVID-19 control measures – which have now quarantined 6.70 million people in three counties of Shenzhen in over 11 reported cases – have sparked widespread complaints.
A Shenzhen resident surnamed Yang told NTDTV on August 30, "I can't go out, I can't buy vegetables. It's escalated. First they say lockdown for three days. Then it was extended, and it will be extended again and again."
Another Shenzhen resident, who did not give her name for security reasons, told NTD, "In recent years, not everyone in Shenzhen has been able to make money. Either their salary was cut or they were fired. Many businesses have closed and many children are not going to school [because of the lockdowns]. I don't even know what's in Shenzhen now that's worth staying for."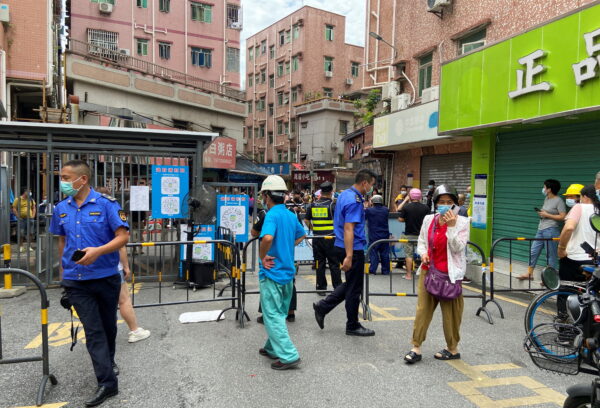 The latest tightened control measures follow Chinese Premier Li Keqiang's recent visit and speech in Shenzhen. Li said the regime will continue the open-mindedness of former CCP leader Deng Xiaoping, which focuses on the developing economy. Under Deng's policies and with foreign aid, Shenzhen quickly became China's economic center within a few decades.
Regarding the CCP's conflicting messages, Canada-based current affairs commentator Wen Zhao pointed out on his YouTube talk show that this reflects intensified power struggles between the CCP's political factions ahead of its upcoming convention in October.
The tightened measures in Shenzhen show that Xi Jinping's "zero-COVID" measures and isolation policies have prevailed over the opening up and development of Premier Li's business party line, he said.
Risk of an economic stall
Meanwhile, the Anbound Research Center, a Chinese think tank based in Beijing, released a report noting that "China's economy is at risk of stalling" due to the "impact of epidemic prevention and control measures." .
It called on the Chinese regime to change its "zero-COVID" policy, which has led to city closures and trade disruptions, to avoid an "economic standstill" in the second half of the year.
The report was published on Anbound's official accounts on Chinese social media WeChat and Sina Weibo on August 28, but was deleted from both platforms the day after.
#China #locks #worlds #largest #electronics #market #part #zeroCOVID #policy Source