Business
The end of summer, but no Summer Company business initiatives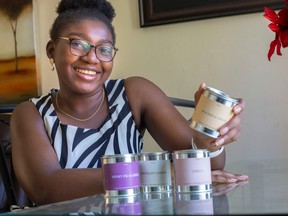 content of the article
A return to school on Tuesday does not mean participants in the Summer Company program will pack their businesses when classes resume.
content of the article
As part of the entrepreneurship program run by Invest WindsorEssex's Small Business and Entrepreneurship Center, several of this year's graduates will continue their businesses throughout the school year.
content of the article
"The Summer Company programs are amazing because I had no idea what to do to start my own business," said Tess Ogunjinmi, a grade 12 student in Assumption's International Baccalaureate program.
"We were taught how to run a business, networking, marketing.
"I could make the candles and the crafts part of it, but business and art are two different things. I only had the artistic part of it covered."
Ogunjinmi's shop is called Serene (www.serenessentials.ca), with handcrafted candles made in four scents, then paired with a playlist that can be accessed via a QR code.
content of the article
Her business also has a corporate social aspect as she donates $1 from every purchase to a charity. Funds are currently being donated to the Downtown Mission of Windsor.
The 17-year-old Windsor resident opened her shop three weeks ago at the Farmers' Market in downtown Windsor.
"I was nervous that I wasn't going to sell anything," Ogunjinmi said. "I had about 45 candles and sold 35 of them.
"It's definitely challenging, but I liked the idea of ​​putting my time and energy into something I love. Something I want to create and grow."
Ogunjinmi said she will focus more on school this fall but will be performing at pop-up events and Christmas markets.
This year's Summer Company program featured 10 students, each receiving up to $3,000 in scholarships to develop and keep their business plan afloat. Businesses are expected to be operational for at least 10 to 12 weeks.
content of the article
The program is open to students between the ages of 15 and 29.
"They were all high school kids that year," said Sabrina DeMarco, executive director of the Small Business and Entrepreneurship Center.
"They were a very diverse group and their businesses were diverse."
Business concepts this summer ranged from tech-focused companies to baking to swimming lessons.
It aims to inspire them to be creative, innovative and entrepreneurial
In order to be accepted, applicants must develop a business plan and present their ideas. Once selected, they receive support from the Small Business Center and mentoring from the local business community, in addition to funding. The program is funded by the Ontario Ministry of Economic Development, Job Creation and Trade and has been running since 2000.
content of the article
"This program is about planting the seed," DeMarco said.
"It's an experiential program. It aims to inspire them to be creative, innovative and entrepreneurial and develop those skills to carry them into the future."
Vanessa Brenders dreams of becoming a surgeon but sees her business as a creative outlet for her passion for baking. She plans to continue baking on weekends and special occasions after she returns to school for the 11th grade.
The 16-year-old Holy Names student, whose business is called Cookies and Crumbs (cookieandcrumbs.wixsite.com), is quickly building a client base and will be hosting an art show for Nancy John's Gallery on September 10th.
"I really love taking on new challenges," says Brenders of why she started her company. "I love baking and wanted to be in control of my schedule. I can bake whenever I want."
content of the article
Small business services to find the path to entrepreneurship

Invest WindsorEssex launches campaign to attract US technology investment
Brenders believes what she learned this summer will be applicable in many ways aside from her business.
"I understood the financial aspect behind a company," said Brenders. "I understand how profit goes through a company.
"I would say the biggest challenge I faced was marketing, getting my name out there through word of mouth and social media."
Brenders said she also learned the value of networking and mentorship.
"I found it really amazing to be around everyone in the other startups and mentored by people who came out of the Summer Company and now have their own successful businesses."
#summer #Summer #Company #business #initiatives Source